Panna Mária sa zjavuje v Brazílii až dodnes
http://www.santuariodeitapiranga.com.br/
Satan bude zničený pokorou a poslušnosťou tých, ktorí chcú žiť moje výzvy k srdcu a láske. (Panna Mária v Brazílii)
Kráľovná ruženca a pokoja * Zjavenie sv. Rodiny * Predpovedané katastrofy *  Požehnanie rodín * Pečať pre Boha * Imprimatur biskupa
Ako keby sa to dialo niekde úplne mimo radar.  Hlboko v brazílskom pralese, v štáte s názvom Amazónia,  v meste Itapiranga  ako aj v hlavnom meste, prehovorila v roku 1994 a doteraz Panna Mária hovorí  k dvom vizionárom ako Kráľovná ruženca a pokoja.  Mesto zjavení má do 10 tisíc obyvateľov, leží takmer 2000 kilometrov sevrozápadne od Rio de Janeira a 200 km od hlavného mesta Manuas.  Detaily zjavenia z územia jaguárov, anakond a  pralesov  sú fascinujúce.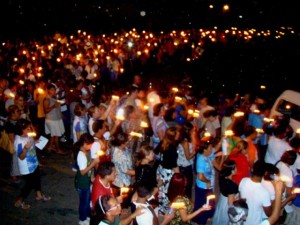 Prvé zjavenie sa udialo 2. mája v roku 1994 a Panna Mária prišla ako nádherné 17-ročné dievča. Pri ďalších návštevách sa často zjavila spolu so svätým Jozefom, ktorý držal Dieťa.  Dvaja vizionári  Edson a jeho matka Maria do Carmo ich zažívajú zjavenia spolu i osobitne. Mnoho posolstiev je zameraných na mladých a viedlo k vzniku modlitebných skupín až v Taliansku. Sobotné zjavenia boli deklarované ako druh pomoci na vyhnutie sa "veľkému zlu ktoré prichádza na svet."
Božia Matka tu podľa webstránky predpovedala veľké ázijské tsunami v roku 2004. Podľa prítomných svedkov Panna Mária ukázala Edsonovi rôzne scény, a jednou z vízií bolo zemetrasenie a tsunami, ktoré v Ázii  zabije tisíce ľudí. Takisto Edsona požiadala aby umiestnil kresbu na stenu svojho domu, aby ju ľudia videli, meditovali nad ňou a modlili sa , aby sa toto vo svete nestalo, ale mnohí nevzali vážne žiadosť o modlitbu za obrátenie sveta a kresby pokladali za nonsens a klamstvo.
V roku 2005 Panna Edsona často žiadala o väčšie zasväcovanie sa pre túto prácu.  Pri inej príležitosti, zjavenia Ježiša, ktorý sa ho spýtal, či chce zachrániť viac duší pre nebo.  Edson to prijal, Ježiš mu umiestnil na hlavu tŕňovú korunu a povedal mu:  " Nauč sa ponúknuť svoje obety a pokánie zjednotné so zásluhami môjho Umučenia, tak sa stanú  drahocennými v očiach môjho Večného Otca ."' Edson tak čoskoro nato urobil a biskup Carillo Gritti prišiel do  Itapiranga (8.máj  , 2005)  prvýkrát, aby tu slúžil pre pútnikov svätú omšu.
Edson vysvetľuje:  "Niekoľkokrát mi Pán dal odhalenia v snoch, ktoré boli naozajstnou prípravou na zjavenia Matky Božej. V sobotu 30. apríla 1994 pri spoločnej modlitbe ruženca s rodinou a priateľmi som začul hlas mladého muža, ktorý mi povedal: "Modli sa srdcom." Rozhliadol som sa, ale nevidel som nikoho. Pomyslel som si "Odkial prichádza ten hlas a kto to je?" Pokračoval som v modlitbe ruženca  a pri treťom tajomstve som znovu začul hlas, ktorý mi hovoril: "Modli sa ruženec každý deň!"
"Bol som zvedavý či aj moja rodina a priatelia niečo počuli a zdalo sa , že moje srdce exploduje a vibrovalo pokojom radosťou.  Keď sme si kľakli a modlili sa Zdravas Mária a pozreli na obrázok Najsvätejšieho srdca Ježišovho a Nepoškvrnenej Panny Márie, ktoré sa nachádzali v obývačke, videli sme , že sú iné, ako keby ožili alebo sa chveli.
V tej chvíli som opäť začul ten hlas, ktorá prichádzal priamo z kresby Nepoškvrneného srdca Márie, ktoré mi povedalo: Prichádzam, Čakaj.  Na konci tretieho  keď priatelia odišli som zavolal svoju mamu a povedal som jej čo sa stalo. Okamžite mi povedala,  čo videla. Pochopil som, že Panna Mária si vybrala  pre svoju misiu evanjelizovať Amazóniu svojími svätými posolstvami  ."
Edson hovorí, že tieto Vianoce videl Svätú rodinu.
Počas zjavenia v Brazílii Dieťa odovzdalo svoje požehnanie svetu a čoskoro na to Panna Mária, ako aj svätý Jozef  urobili to isté. Počas požehnania na nás a svet  dopadli svetlá v tvare hviezd  ako svätožiara.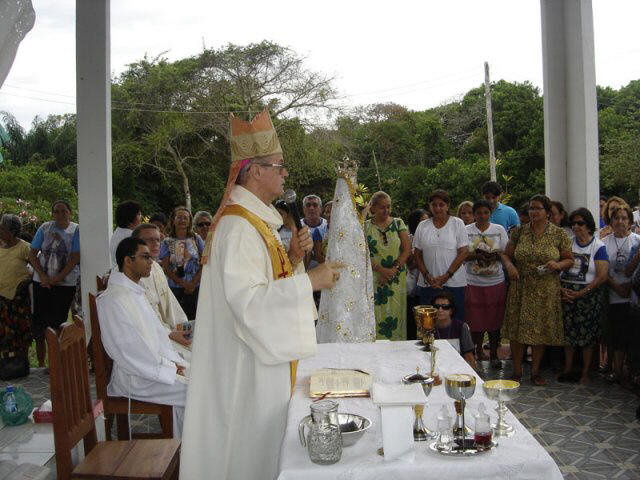 "Panna Mária si nás pečatí pre Boha svojím materinským požehnaním, pripravujúc tak hŕstku verných pre Pána.", hovorí vizionár. "Toto dosahuje cez pôsobenie Ducha Svätého, keď sme týmto požehnaním vedení k eucharistickému stolu, aby sme prijímali Najsvätejšiu krv jej Syna Ježiša, pretože je to On, kým sme spečatení, ako hovorí Písmo : V ňom ste boli aj vy, keď ste počuli slovo pravdy, evanjelium o svojej spáse, a keď ste v neho uverili, označení pečaťou prisľúbeného Ducha Svätého. (Ef 1:13)."
"Pokoj, deti moje!" , povedala Panna Mária. "Prichádzam z Neba spolu s mojím Synom Ježišom a svätým Jozefom požehnať rodiny. Moje deti, v túto špeciálnu noc, keď slávite narodenie môjho Syna., chcem povedať, že je  pokoj vo vašich životoch je svetlom, ktoré osvetľuje cestu v tomto svete.  Buďte Ježišovi, oddajúc sa Mu celým srdcom , a môj Božský Syn im pomôže a utíši ich, keď sa budú cítiť zotročení a bez viery.
Modlite sa. Modlite sa s láskou , modlite sa, aby ste vždy cítili Prítomnosť môjho Božského Syna tak, že bude prítomný špeciálnym spôsobom.  Milujem svoje deti a chcem im povedať, že keď chcú mať pokoj a lásku môjho Syna vo svojich rodinách, musia Mu otvoriť svoje srdcia, odovzdať Mu všetko s vierou, veriť Mu a nikdy nezapochybovať.  Ďakujem vám za vašu dnešnú prítomnosť dnes tu. Príjmite požehnanie môjho Božského Syna pre rodiny.  Vezmite si našu lásku: lásku našich najsvätejších sŕdc ku svojim bratom.
Nebojte sa a nezúfajte.  Boh je s vami odstraňujúc všetky prekážky a otvárajúc pred vami cestu, tak aby sa vaša práca šírila  a silno žiarila, ničiac tmu satana. Satan bude zničený pokorou a poslušnosťou tých, ktorí chcú žiť moje výzvy k srdcu a láske. Žehnám vás všetkých v mene Otca i Syna i Ducha Svätého. Amen!"
Zaujímavosťou je, že Panna Mária tu potvrdila pravdivosť zjavenia 7 ročnej Adele Roncalli v Ghiaie di Bonate, kde sa Panna Mária mala zjaviť ako Kráľovná rodiny a  ktoré bolo zamietnuté.
Miestny biskup vydal nihil obstat a quominus imprimatur na sviatok Turíc v roku 2009. Týka sa posolstiev z rokov 1994 – 98.
Nihil Obstat QUOMINUS IMPRIMATUR
Ak odpoveď na otázky ohľadne zjavení Panny Márie kráľovnej ruženca a pokoja v Itapiranga , ako biskupa  Itacoatiara (Amazonia) Brazília ma požiadali, aby som vyjadril svoj pohľad na autenticitu týchto zjavení počas rokov 1994-1998. Mnoho veriacich a niektorí biskupi poukazovali na urgentnú potrebu objasnenia v tomto ohľade. Som si takisto vedomý, že vývoj oddanosti , ktorý trvá viac ako 15 rokov si to žiada. Čo sa týka nadprirodzeného charakteru a obsahu posolstiev, vidím , že táto oddanosť zaujala miesto v životoch a viere tisícov veriacich. Obdržal som takisto svedectvá o obrátení a zmierení ako aj o uzdraveniach a špeciálnej ochrane.  Pri plnej zodpovednosti Svätej stolice, je primárne úlohou miestneho biskupa rozhodnúť podľa svojho svedomia o autentickosti súkromných zjavení, ktoré sa vyskytnú v jeho diecéze.
Z tohto dôvodu, s ohľadom na výsledky predošlých skúmaní, otázok a a námietok , ktoré vznikli, požiadal som o radu niektorých teológov a psychológov.  Vyhlasujem, že podľa ich názoru neexistujú fundamentálne teologické a psychologické prekážky  voči uznaniu autenticity nadprirodzeného charakteru.  Zváženie týchto názorov, svedectiev , vývoja situácie a umocnené modlitbou a a teologickou reflexiou ma vedie k zisteniu nadprirodzeného charakteru v zjaveniach v Itapiranga…  Na rozdiel od Svätého písma , súkromné zjavenia nezaväzujú svedomie  veriacich. Majú byť videné ako pomoc k pochopeniu  znakov čias a plnému prežívaniu Evanjelia  v  aktuálnej dobe.  A znaky našich čias sú dramatické.
Je mojou úprimnou vierou, že oddanosť k Panne Márii kráľovnej svätého ruženca a kráľovnej pokoja  nám môže pomôcť v dráme dnešných dní nájsť správnu cestu  k novému a unikátnemu príchodu Ducha Svätého, ktorý jediný môže uzdraviť veľké choroby našich čias. Ako člen Légie  Sacrorum Cordium , oddanej spojeným srdciam  Ježiše, Márie a Jozefa žehnám prvú taliansku a portugalskú edíciu posolstiev Panny Márie.
Dúfam, že toto  vyjadrenie poskytlo dostačujúce objasnenie.
+ Archbishop Carillo Gritti Itacoatiara – biskup  Itacoatiara
Prameň:  latheotokos.it
Líbí se ti tento článek? Přidej ho na